We know that healthy natural habitats can help soak up carbon emissions whilst contributing many additional benefits, yet recent data shows only 14% of English rivers are at a good ecological standard and almost none of our rivers are truly untouched by human influence. As well as current pollution inputs, historic activities (development of ports, dredging, land drainage, flood protection and land reclamation) have impacted our rivers and estuaries.
The Tyne estuary is one of these highly modified estuaries: most of the valuable intertidal habitats that would have lined this estuary has been lost through development. Groundwork has been working with the Environment Agency to develop a partnership to restore some of the lost habitat. In 2021 we installed two pilot interventions to create new estuary habitats and a further five projects are planned for the coming year.
Greening our estuaries can help nature recover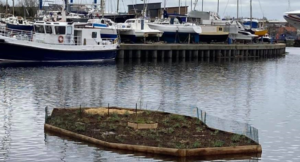 The floating ecosystem has installed at Royal Quays Marina uses recycled materials to allow plant growth above and below the water's surface. Designed by specialist company Biomatrix, the vegetated rafts create fish habitat underwater and provide roosting, nesting and foraging opportunities for birds, mammals and invertebrates.
Across the river at Hebburn, our second pilot scheme is an experiment in creating saltmarsh. Brushwood fascines and coir rolls have been installed within the intertidal zone to collect tidal mud and the silt from the estuary. Once sediment has accreted the existing saltmarsh vegetation will extend over the new substrate.
Saltmarshes are one of the most effective habitats on earth for absorbing carbon dioxide from the atmosphere and locking it up in the soil, preventing it from entering the atmosphere and contributing to climate change.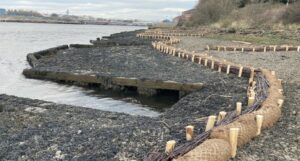 Recently completed several estuary greening schemes in other north-east estuaries include an array of 'Vertipools,' artificial rock pools, fixed to Blyth estuary's East Pier, and also at Sunderland Marina. Developed by Artecology and trialled by the University of Bournemouth in the Isle of Wight, these pools provide a substrate for colonisation of marine species.
These projects aim to improve the biodiversity and connectivity of crucial intertidal habitats. They will be monitored and evaluated by University of Newcastle, to provide empirical data for carbon off-setting and biodiversity nett gain.
Restoring river habitat: healthier rivers are more resilient to climate change
Further up the Tyne catchment, Groundwork has been working with Revitalising Redesdale Landscape Partnership to restore natural river processes: helping to redress the damage caused by dredging the River Rede in the mid 20thC which has removed much of the river habitat so important for endangered Freshwater Pearl Mussels. Reintroducing stone and gravel has recreated rocky riffle features and reinvigorated flows in deeper sections improving habitat for fish, river flies as well as mussels.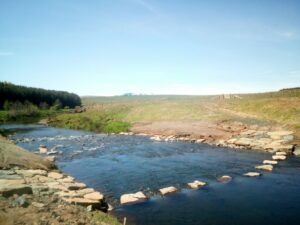 Dredging also created over-steepened banks, accelerating erosion and inputs of fine sediment which is detrimental to the mussels. Work has included bank stabilisation and riparian tree planting, filling in drainage ditches and holding back water with leaky dams, in order to return the river as close as possible to its natural state.
These examples of restoring habitats may be on a small incremental scale, but by promoting the benefits to the wider public as well as stakeholders and decision makers, these schemes can provide practical examples of more climate resilient landscapes.
From small tributaries in upper catchments to greening of estuaries, Groundwork is working in partnership to help deliver resilient functioning ecosystems which help mitigate the impacts of climate change.
Blog by:  Michele MacCallam, Principal Landscape Architect, Groundwork NE & Cumbria